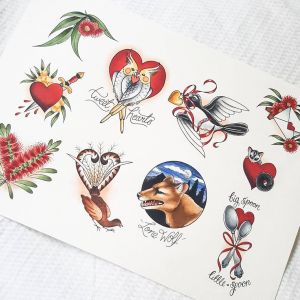 Saturday the 11th of February With Love Tattoo held a valentines themed flash day at With Love Tattoo with all proceeds donated to the local Salisbury State School.
Malika, Mitch, Jesse and myself pre-prepared an A3 sheet of small flash designs for flash day customers to choose from. Along with these we had a small sheet of little designs. For those who didn't want a tattoo we had a big raffle of goodies donated by local businesses in the area.
Come flash day we had a line up out the door! Mitch and Malika were booked out in a few minutes. I ended up tattooing a couple of Mitch's designs because of this which I found fun and quite the learning experience as I don't usually tattoo straight traditional. Jesse was incredibly helpful suggesting traditional colours to me. Turns out traditional is a lot harder than your think. At least for my brain that is all about detailed designs and lots of colour blends. It was a huge and humbling learning curve.
After I punched out a couple of Mitch's flash designs I tattooed two of my willy wag tails on the ribs, minus the heart and ribbon as it was for a bloke. I ended the day with a couple of the little designs for some lovely ladies who waited very patiently for their turn.
To hear at the end of a good 12 hours of tattooing that we had raised just under $6000 was hella rewarding!
The funds raised will be going toward air-conditioning for the school classrooms. I was shocked to learn that Queensland state schools have the same budget for air-conditioning as the southern, more cooler states. Anyone local to Queensland knows how brutal and humid our summers can be, and being stuck with sweat to a plastic chair in a 40 degree classroom doesn't make for ideal learning conditions. I know, as I went through that myself! (I wonder if my grades would have been better with aircon? Hah … probably.)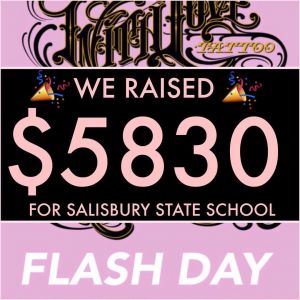 Many thanks to Mike and Chloe for helping on the counter. Also a big thanks to the many local businesses who supported the event. Shout out to Melinda's Gluten Free Goodies, Mark Ward Property, Feeling Peachy, Few & Far Collective, Death Before Decaf & Salisbury Barbers.
Last but not least thank you to everyone who came and got a tattoo, bought a raffle ticket and helped spread the word!
I  have lots of designs on my flash sheet I would still love to tattoo. If you are interested in a cute little Australian design please send me a message through my enquiry page.