The U on Sunday lift out from the Sunday Mail Brisbane ran this interview over the weekend of how me and best mate Aria met through a tattoo to cover her scars, and how we have since formed a years long friendship.
It's a pretty cool story that will give you the warm and fuzzies at the end so I am pretty glad we were able to tell it. Many thanks to Kitty from the Australian Tattoo Expo and U on Sunday for this opportunity.
Our story also highlights how import it is to lift each others up when they are down. I honestly didn't feel I was doing anything terribly profound at the time but as I have found out years later I have come to understand that my kind and encouraging words and gestures from myself were literally life changing for Aria. There is only so much room in a news article however, it does not even go into all the wonderful things and emotional support that Aria has given to me in turn. She's always there to give me a laugh or lend a hand when life gets tough. And all this started from a tattoo! How cool.
Aria is a comedy podcaster from the Channel 'Aint it Rich' which she co hosts with her mate Mickey Flykick. Each week they tell a story about the lives of the ridiculously wealthy. I regularly drive 1.5 hours to another city and this podcast makes the drive entertaining and fun. Plus I feels like Aria is there hanging out in the car with me! Haha.
You can find more about Aria's podcast and live stream episodes on www.aintitrich.com
Info on the Brisbane Tattoo Expo: www.tattooexpo.com.au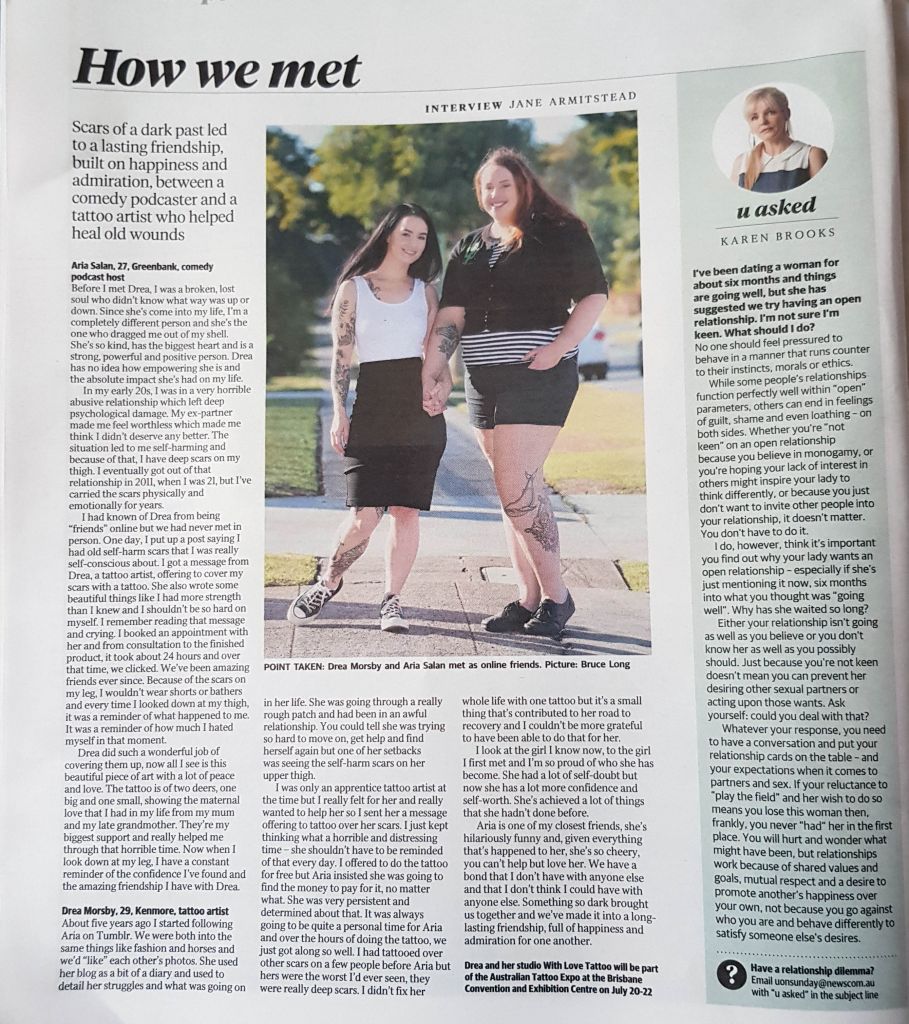 https://www.couriermail.com.au/lifestyle/uonsunday/tattooist-covers-over-dark-past/news-story/cfdf3d51b521a4ec18744a7d31ae26bb