Greazefest's lowbrow art show challenge has a consistent theme, Kustom Kulture. However the canvas is different each year. Since it's inception I have felt honoured to be asked to participate. This year, feeling inspired by vintage barkcloth fabric, my offering was a couple of pink flamingos with palm fronds upon the blank US Licence plate that served as this year's canvas.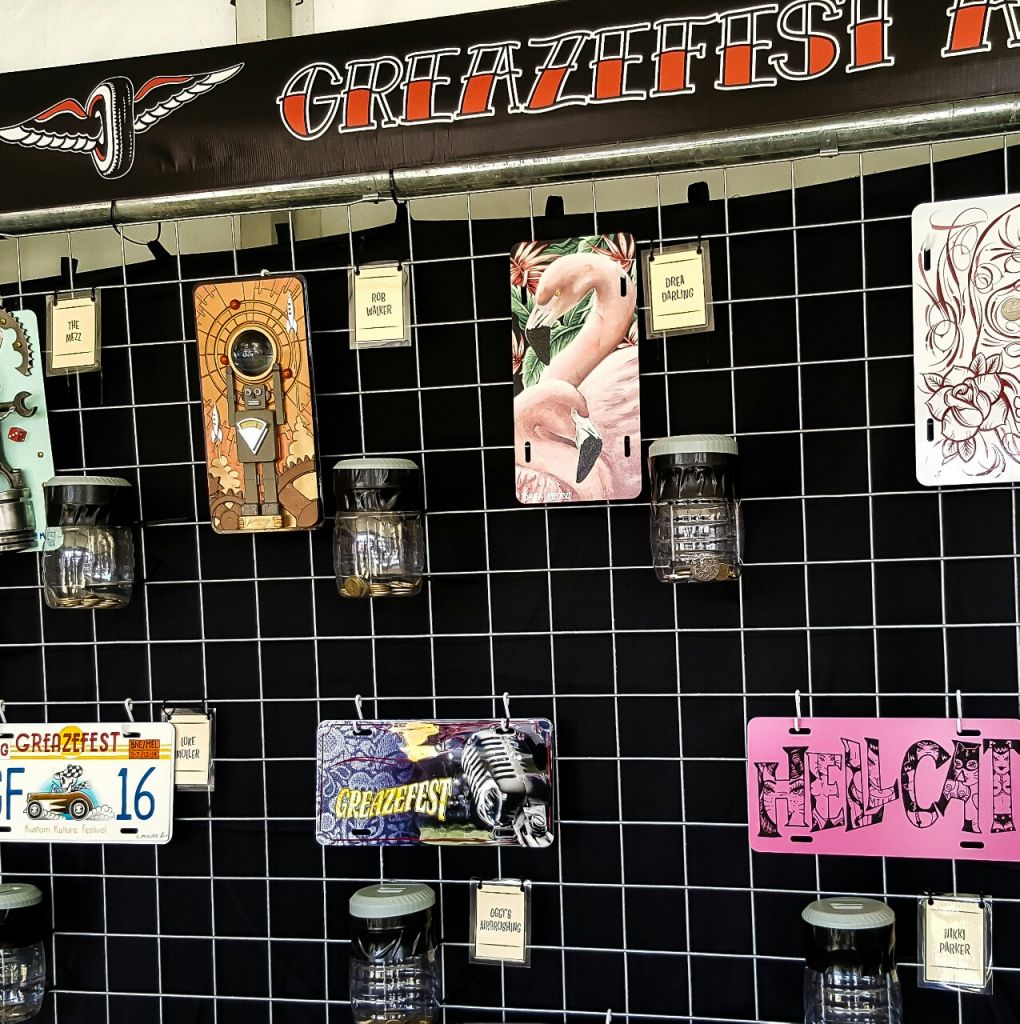 Twenty lowbrow artists] from around Australia, are invited to the challenge and given an object to paint. Once finished they all displayed together at Greazefest, each with an individual coin counter. Greazefest punters can these cast their 'vote' by dropping coins into the counters. The piece that raises the most money for the RSPCA wins!
Given that all 20 artists must start with the same canvas, it's really interesting to see the various ideas the artists comes up with. Some of the the artists even cut up their canvas object, add things to it or in the case of Rob Walker's entry in the first year, turn it into a fully functioning remote controlled robot! (He won that year)
In 2014 all the artists received moon disc hubcaps. So fancy! But I was being pushed out of my comfort zone given I had never worked with metal. Thankfully I had the help of my partner who decorated the disc with metal turning and gave it an attractive 2 tone paint job. I took to it with enamel paints, because I heard that's what you paint on metal. My results came out ok for a first try, but given my inexperience with the medium it wasn't my best work. It was fun to try it out none the less! None of us stood a chance against the incredible robot moon disc anyway.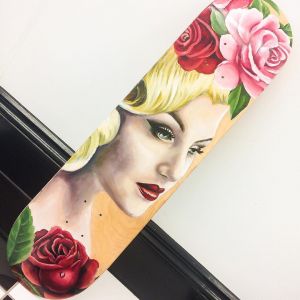 In 2015 our canvas was a plain wood grain skate deck, more my forte. A quick sand later (thanks boyfriend) I painted up a pretty pinup lady and some vintage roses without any drama. I was was blown away and pleased as punch to find out it had sold at the Melbourne Greazefest.
2016, the US Licence plate. After my moon disc difficulties I inwardly groaned at the prospect of dealing with metal again. No way in hell was I attempting enamels again, not with so many talented pinstripes in the challenge. My partner etched primed the plate for me and gave it a sand.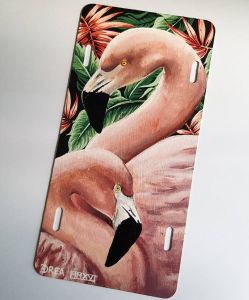 I hatched this crazy idea to use my newfound love of pencil art on it. Coloured pencils on tin is apparently a thing. The only problem was the etch primer was grey so all the light coloured pencils showed up rather dull. I then proceeded to layer the plate in gesso primer, hoping that would solve my problem. It didn't. Sure the copic markers stuck like shit to a blanket but my pencils kept catching on the gesso surface and cleaving chunks out of my primed surface. Ah the bitter taste of defeat. I gave up and started the long process of covering my disaster with layer after layer of gesso. Damn that red copic marker was hard to cover!
Many hours and many layers later I began to paint the new design. I was now overdue for the due date to submit the finished plate. I figured it would have be a 'better late than never' kind of situation. For 8 hours straight I painted my little heart out. It was marathon last minute artist effort. But it was fun! That pesky red copic marker still showed a little, but flamingos are pink so it worked out. And given how awry by plans had gone before, I was pretty darn please with my recovery.
The Melbourne Greazefest has only just wrapped up so I have no word yet on whether it has sold yet or not. Mind you I'm already teeming with curiosity at what next year's canvas will be. Hopefully it won't be metal!